HyCool will use the latest available developments in both concentrated solar panels and thermal storage fields to develop two innovative hybrid solar system concepts: one for chemical industrial processes primarily meant for solar steam and cooling energy provision and one for the small food industry primarily meant for solar cooling production.
Our aim is to demonstrate the potential of solar cooling systems in the industry.

For this, our pilot sites will implement the HyCool system through opposite strategies in two selected key industry sectors: food and chemicals.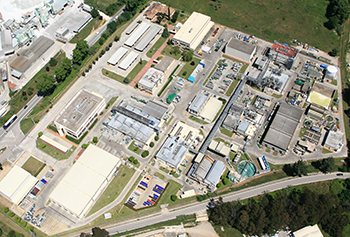 The chemical case pilot targets industries with several processes in high solar irradiation areas with steam and cooling needs. Here a more complex configuration is aimed to optimize operational flexibility, so a more complex system will be implemented, able to be switched among different options based on weather, season and production schedule.
Givaudan will be the pilot site for the chemical industry case. Givaudan is the global leader in the creation of flavours and fragrances. In close collaboration with food, beverage, consumer product and fragrance partners, Givaudan develops tastes and scents that delight consumers over the world. Givaudan, has established an ambitious set of eco-efficiency targets, as part of their agenda to achieve excellence in climate action, which takes action for the environment across their operations and beyond.
Their cold installation makes use of a glycolic water chiller to keep the water entering the liquid ring of the vacuum pumps at 7ºC.
The thermal demand for the installation was calculated at 108000 kcal / h (125.5 kW).
Interchangeability between glycolic water and liquid ring water 64000Kcal / h (74 kW).
The food case pilot targets specialized small Food industries in high solar irradiation areas with cooling needs in their processes. Here narrow configurations are aimed to optimize efficiency, so a simple system will be selected to obtain maximum outputs based on the conditions of use.
Bo de Debò will be the pilot site for the food industry case. This company exerts in its current facilities the activity of preparing precooked fresh dishes based on meat, fish and vegetable products. The scope of action regarding both the acquisition of raw materials and the commercialization of products is basically the Spanish territory.
The industrial cold installation is necessary for the good preservation of the product, it serves different rooms to achieve them the following final temperatures in the chamber:
Production area: 6-8ºC
Delivery area: 10-12 ºC