Per IRENA's estimates, SHIP has the technical potential to cover 10% of industrial energy demand by 2030.
Europe is in the middle of a game-changing decarbonisation process. European regulations are changing quickly and constantly, introducing new obligations on energy efficiency, use of renewable energy, energy audits, circular economy and much more.
From the cost perspective, carbon taxes are being introduced in many European countries and will influence the cost of energy in the future. Future fossil fuel prices are subject to great uncertainty, due to resources scarcity, changing energy markets with increased use of renewable energy sources, and geopolitical issues.
Solar thermal heating and refrigeration is a modern, efficient and technologically appealing way to decarbonise industrial production. It is completely carbon-free, affordable, well subsidised in several Member States and provides heating and cooling at constant energy prices over at least two decades.
Per IRENA's estimates, SHIP has the technical potential to cover 10% of industrial energy demand by 2030.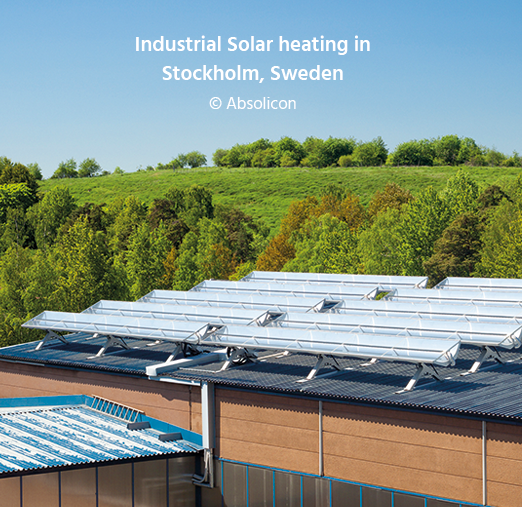 Temperature: heat at a temperature of up to 300°C and negative cold at a temperature down to -40°C.
Sectors: Agro-food (brewery, mining, crop drying, etc.), chemistry, textile, paper, metallurgy, rubber & plastic, machinery and electrical equipment, wood.
Industries processes: drying and dehydration, preheating (input or raw material), pasteurisation and sterilisation, washing and cleaning, chemical reactions, surface treatment, space heating, supply of hot water or steam.
Geographical coverage: At least 891 plants worldwide (2020; SolarPayback). Suitable for regions with higher solar irradiation.
Investment required:  for large systems in Europe, the investment costs can go from 350 to 1040 USD/kWth (315 to 936 EUR/kWth). In terms of energy costs, it can range from 20 to 70 USD/ MWhth (18 to 63 EUR/MWhth) in Southern United States and between 40 and 150 USD/MWhth (36 and 135 EUR/MWhth) in Europe (2015; IEA)
Benefits: Depending on the location, a 1.4 MWth (2000 m²) system could generate the equivalent of 1.1 MWhth /year, a saving of around 175 Mt of CO2 (UNEP; 2015)
The Solar Heat for Industrial Processes – SHIP database has been created in the framework of the IEA Task 49/IV. This online database contains a worldwide overview on existing solar thermal plants which provide thermal energy for production processes for different industry sectors.
Each plant description contains a number of informations about e.g. the size of the collector field, collector technology or integration point in the production process. An initial survey has been developed and sent out to different solar companies by AEE INTEC. The returned data has been collected, structured and integrated into the database by them.
The 100% RE Industries Horizontal Working Group (HWG) has the objective of defining a comprehensive roadmap for the European industry to achieve the target of 100% RE heat and cold supply in order to foster the European industrial leadership.
It is coordinated by RHC-ETIP, the European Technology and Innovation Platform on Renewable Heating and Cooling. RHC-ETIP is made of technology panels, which represent the supply side (manufacturing and selling of renewable heating and cooling technologies), and of Horizontal Working Groups (HWG) who represent the demand side (buildings, cities, districts and industries).
Follow this link to read more about their goals, needs and roadmap.
One of the first programmes of the International Energy Agency to promote the use of all aspects of solar thermal energy.
With around 40 members in Europe, hey advocate for better regulation and encourage EU policy makers to shape a fair context for heating and cooling solutions.